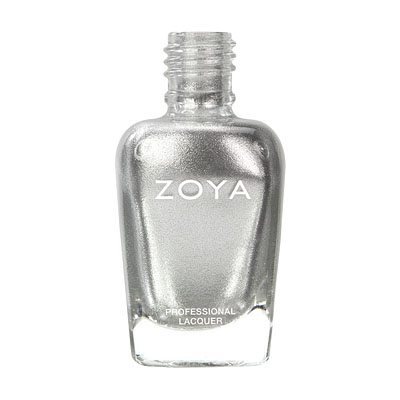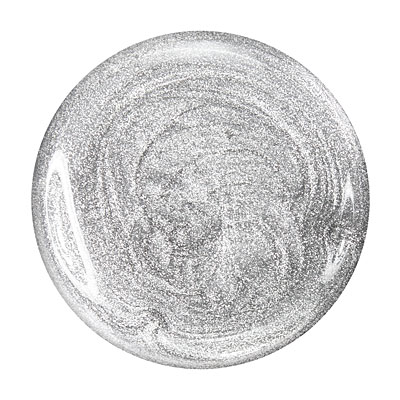 Description
Trixie by Zoya can be best described as a stunning light silver with a sparkling metallic foil finish. A chic and edgy shade that adds a spark to your look.
Nail Polish
Color Family:
Metal
Finish:
Metallic
Coverage:
2 - Coat Coverage
Tone:
Cool
Instructions
For Best Results
Step 1: Clean the nail plate with Remove Plus ( Remove ) nail polish remover and nail plate cleaner
Step 2: Choose and apply the right base coat: Zoya Anchor for regular healthy nails or Zoya GetEven for nails with ridges
Step 3: Apply 2 coats of your favorite Zoya Nail Polish Color
Step 4: Apply a coat of Zoya Armor Top Coat
Step 5: Drop one drop of Zoya Fast Drops to the base of your nail bed
Following these 5 steps guarantees up to 14 days of wear on natural nails.
Shade Spotlight
Shade Spotlight Join our community - Tag your photos #EverydayZoya for a chance to be featured here!
View the Gallery
Ratings & Reviews
33

Review

s

Please sign in to write a Review



-stunning
2019-05-23
The images on the website make it look more chrome but in real life I would say it`s more glitter foil. Super duper amazing though, a great party colour!!!
Nickie
Location-Brooklyn, NY
Consumer Review
Zoya Nail Polish | TrixieA true solid silver..
2012-12-12
Trixie is a beautiful, solid silver polish. I anticipated a more glittery, chunky silver - but it is NOT. Bold & shiny! It is completely solid after 2 applications and it is great to mix and match with different manicure designs. Love it!
Zoya Nail Polish | TrixieSo pretty!
2012-12-06
I love all my Zoyas, but Trixie is my favorite! It is so shiny and pretty!
Lori
Location-Oregon
Consumer Review
Zoya Nail Polish | TrixieAmazing!
2012-08-26
Love this color. Amazingly like a silvery foil. Great coverage. :)
craiger5305
Location-Falls Church, VA
Consumer Review
Zoya Nail Polish | TrixieWhoa!
2012-07-24
All I can say is... Whoa! You`ve never seen a silver like this before, I can promise you. I usually hate silvers, they never turn out as pretty as they look in the bottle. But Trixie is the exception. The "sparkling metallic foil finish" is simply TO DIE FOR!
Anya
Location-South Carolina
Consumer Review
Zoya Nail Polish | Trixiegreat color
2012-07-04
It`s opaque in one coat, which speeds up polishing time. I love it on my toes.
Awesome!
Location-N. GA Mountains, USA
Consumer Review
Zoya Nail Polish | TrixieMy Favorite `Go To` Polish
2012-07-04
Love this polish! It`s a beautiful metallic silver that is opaque in one coat, dries fast and wears well. Looks great under crackle polishes, is super for stamping and beautiful just on it`s own. It`s my "go to" polish. Already on my 2nd bottle.
britbikegirl
Location-san jose, ca
Consumer Review
Zoya Nail Polish | TrixieFavorite polish ever
2012-05-23
It`s a beautiful silver foil color. And it lasts without chipping for days! Normally polish chips sometimes within a couple hours on my nails. Many of the Zoya polishes last a full day or two before chipping but this one is like a miracle!
I love it.
PirateFoxy
Location-Pittsburgh, PA
Consumer Review
Zoya Nail Polish | TrixieJust gorgeous
2012-05-17
I love metallics, but they can be so difficult with steaks and everything. Trixie is a bit different in terms of the way the texture looks compared to the typical metallic polish, but the end result is a GORGEOUS really super metallic silver that is at home as a tip color or base for a funky french manicure as it is as a stand alone color for those disco-ball days. :)
Zoya Nail Polish | TrixieTrixie lives up to the hype!
2012-05-16
This polish really doesn?t need a second coat and is like liquid silver on my nails. I?ve never seen a polish quite like it. It will work for warm and cool toned skin. If you want a truly statement polish, try it!
Zoya Nail Polish | TrixieGorge!
2012-04-11
After reading the reviews on Trixie, I had to buy it. Everyone said that it was the closest thing to Minx that you could get in a bottle. While it has a shimmer rather than a solid liquid metal look, this is by far the best silver polish I have come across. It`s not dingy, but bright and vibrant. Great for holidays or to punch up your everyday look.
iLoVeNaiLjEwErLy!
Location-VA USA
Consumer Review
Zoya Nail Polish | TrixieWhite Hot Metal!
2012-02-26
I usually don`t get into those frosty, glittering silvers, but this is different. It`s smoother looking. It makes my nails look like they`re made of brand new sterling silver or highly polished chrome. Not an every day color - for me - but I really like it!
Fickleflan
Location-New York
Consumer Review
Zoya Nail Polish | TrixieSilver leaf for your nails
2012-01-23
I agree with all the comments. Smooth application that`s a real silver, not gray. First silver polish I`ve bought that I love. I threw the others away. Love live Zoya!
NewtypeLady
Location-Boston
Consumer Review
Zoya Nail Polish | TrixieSO GORGEOUS!
2012-01-18
Oh my gosh, it`s utterly perfect. The coverage is great and the metallic look is beautiful and sparkly without chunky glitter (it`s nice and smooth!) <333 Gorgeous.
Zoya Nail Polish | Trixie LOVE
2012-01-06
This is my second bottle of Zoya and I just adore it. It goes on beautifully -- and the color is just stunning! I got a lot of compliments on it. I am rough with my hands and normally get a lot of tip wear -- it was very hard to notice with this color. My manicure lasted a couple of days longer than usual. Very happy :-)
nwebb5
Location-Muskegon, Mi
Consumer Review
Zoya Nail Polish | TrixieAwesome
2012-01-04
I got this in one of the facebook promos. I love it! Applies easily and it`s just beautiful, I have nothing like it! It works well for stamping if you`re into doing that!
Valerie
Location-Columbus, OH
Consumer Review
Zoya Nail Polish | TrixieEveryone needs Trixie
2011-12-28
Trixie is an absolutely one-of-a-kind silver nail polish! This is a color that will look great on any skin tone. Color goes on opaque in one coat but I used two to extend wear. Love Zoya!
Zoya Nail Polish | TrixieTrixie
2011-10-08
I love this polish! It`s very unique and trendy. I don`t own anything like it but I`ve gotten many compliments on this polish. It goes on smooth also which is something that I was skeptical about at first. My only complaint is that when you remove it, it leaves a little glitter all over your fingers. So if you`re planning to remove it, make sure you remove it at night or before you shower. Definitely not before an event or something like that.
bigfat_baby
Location-hnl
Consumer Review
Zoya Nail Polish | TrixiePerfect silver
2011-09-20
I second everyone else`s comments. The silver polish of all silvers, and foil finish to boot. Visually stunning. What`s not to love? Opacity in two coats.
MH
Location-FL
Consumer Review
Zoya Nail Polish | TrixieMust Have
2011-08-07
This is an obvious must-have. Incredibly unique (almost a foil effect), while still being incredibly versatile. Also great for the holidays! :]
VivifromtheOGM
Consumer Review
Zoya Nail Polish | TrixieAwesome color
2011-06-07
It doesn`t have the `mirror` effect I thought it would have, but it`s a very unique color, that you won`t be able to find anywhere else.
SammyGo
Location-New York
Consumer Review
Zoya Nail Polish | TrixieIn LOVE
2011-05-31
I have been searching for years for a perfect shiny silver to make my nails look as though made of chrome and this is the closest I have ever come! Intense, gorgeous and beautiful application. I only need two coats to get this amazing opacity.
Slowly falling for them
Location-New York
Consumer Review
Zoya Nail Polish | TrixieLooked better than I expected
2011-05-07
I ordered Trixie because of all the great reviews and I`m glad I did. I was having doubts about the color, but all that went away after I received the item. The color makes my nails look glamorous and the mini glittery effect is great. A bad thing about the nail polish is that it`s sort of hard to get off. I would have some Trixie remaining on the sides of my nails, but that may just be because of the nail polish remover I have. Not sure yet.
Kelly
Location-Denver, CO
Consumer Review
Zoya Nail Polish | TrixieFlawless!
2011-03-28
This is a lovely polish! It`s eye-catching and unique. No matter the season it looks glamorous and amazing!
Raina
Location-NY
Consumer Review
Zoya Nail Polish | Trixiea must-have
2011-03-21
i think any Zoya foil is essential to own, but trixie in particular is great, since it goes with everything and looks amazing! i`ve had people stop me to compliment this shade. ;)
timandcandice
Location-Albany
Consumer Review
Zoya Nail Polish | TrixieLike having silver foil lining your nails
2011-02-14
Trixie is simply marvelous and you can just about get away with a single coat. I painted a strength base and then did 2 coats and it did bubble, so I`d skip the base and just go for a top coat over a thick first coat or 2 thinner coats. No wear or tear for the first week and made it nearly a second before I had to reapply. Beautiful!
R.C.
Location-Boston, MA
Consumer Review
Zoya Nail Polish | TrixieWhat a FANTASTIC product!
2011-01-20
I took part in the Facebook promo a couple of weeks ago, having never even heard of Zoya. I ordered Trixie along with two other colors, but it was Trixie that I was dying to try. It was totally worth the risk!
MY NAILS LOOK LIKE THE FUTURE. The metallics are brilliant and it goes on incredibly smooth. The drying time is also very fast; I`m impressed! I don`t even think I need any sort of a top coat -- two coats did the trick.
I highly recommend this product! I have two other colors waiting for me to try, but they`ll have to wait until I get bored with Trixie... which won`t be anytime soon!
i love trixie!
Location-TX, USA
Consumer Review
Zoya Nail Polish | TrixieTrixie!
2011-01-15
Trixie is such a fun color! SO sparkly and shimmery. It goes on so smooth and dries really quickly. One coat and I was done! Love this! Love Zoya!
Michelle
Location-Bend, Oregon
Consumer Review
Zoya Nail Polish | TrixieWow
2010-11-10
Trixie is one of my favorites. It has a great foil-like look. When I first used it, for some reason I thought of 1980`s futuristic. Lol. It`s not an out-dated color though. Very chic.
Jenna Sais Quoi
Location-Bay Area, CA
Consumer Review
Zoya Nail Polish | TrixieFoiled again!
2010-10-12
This is the first Zoya polish I have tried, and man, am I hooked. This polish applied amazingly smoothly: I am used to streaks in my manicure when I apply a color with this much of a metallic finish, but there are no stripes visible on my nails with this opaque metallic. It looks like my nails have been silver-leafed.
The micro-glitter gives a beautiful sheen without being obnoxious. My husband`s comment: "Your nails look like tiny little Mercedes sedans." Which I think (in guy-speak) was a compliment. Sparkly doesn`t usually look classy, but it does in this case.
Kirstie
Location-Baltimore, MD
Consumer Review
Zoya Nail Polish | TrixieThe BEST silver polish made!
2010-08-12
I love silver and have tried a lot of silver polishes, but been very disappointed. Trixie by Zoya will not let you down! This is a bold silver, which coats your nails perfectly in 2 coats. No nail is seen underneath, so it looks like foil on your fingers. There is some silver glitter for an extra sparkle, but it is not chunky or too heavy. It wore very well even without a top coat. I have a feeling that I will be buying bottles and bottles of this color as it is just as perfect for a summer 4th of July manicure as it would be for the Christmas holidays!
StacyJ
Location-Kalamazoo, MI
Consumer Review
Zoya Nail Polish | TrixieKaPow!!!
2010-07-24
I LOVE THIS POLISH!!!!! I have tried so many silver polishes in the past and this is by and far the BEST!! It is so shiny with a barely perceptible shimmer. Of the 13 Zoya colors I`ve purchased so far this is absolutely my fave!
Luv4Chocolate
Location-Santa Fe, NM
Consumer Review
Zoya Nail Polish | TrixieTrixie
2010-06-02
This color is so cool. I only need one color. It`s totally fabulous and a natural polish alternative to minx nails.
Add a Review
Review Guidelines
We want to publish your review.

Please avoid inappropriate language, personal contact information, other brands, and external links.