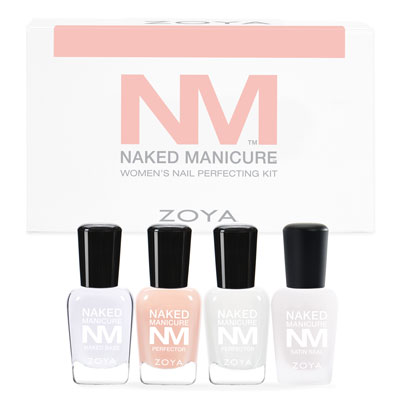 Description
The Naked Manicure Women's Starter Kit is an easy, all-in-one, full-size (0.5oz) retail kit for women. Includes one bottle of Naked Base, Pink Perfector, White Tip Perfector and Satin Seal Topcoat.
Zoya Naked Manicure
Shade Spotlight
Shade Spotlight Join our community - Tag your photos #EverydayZoya for a chance to be featured here!
View the Gallery
Ratings & Reviews
6

Review

s

Please sign in to write a Review



tammy.lusk
-New Jersey
Consumer Review
-wonderful and long lasting
2017-09-11
Been a zoya fan for a while and I usually love bright colors. I tried this twice. The first time I had some difficulty getting the white tip uniform in color and application. The second time looked great. I love the glossy top coat. This lasted over two weeks (and could have gone longer). The finish makes you nail feel smooth and hard (almost like you have an artificial nail) but without the damage. Nails were in great condition afterward.
Kathy
-Columbus, OH
Consumer Review
-I`m a believer!
2015-11-14
I was very skeptical of the hype surrounding Naked Manicure, but I purchased because of curiosity. Boy am I impressed! My stained nails look healthy and so natural. Zoya does it again!
Clearblueskyz
-Atlanta, GA
Consumer Review
-My nails feel so strong and smooth
2015-10-26
This is a wonderful system. I noticed my nails felt smoother and stronger after i had removed the treatment from wearing it 1 day. The naked manicure system does give my nails a very natural look. I can understand if some may be afraid of using the tip perfector, but it isnt a stark white, it is off white. You can skip the tip perfector if you like. Overall great system.
kathy kc
-Lake Grove
Salon Review
-nail tech
2015-10-19
NAKED MANICURE is one of the best products for natural nails!!!! I have been waiting for a product like this THANKS ZOYA....and it is vegan friendly!!!!! retail is going great at my shop with ZOYA products
PamH
-Fort Worth, Texas
Consumer Review
-Great Kit
2015-10-04
Love this kit. The polish really stays on and wears well. I will continue to explore other colors in the line. Great for anyone
Poodlemom1213
-Charleston, SC
Consumer Review
-Beyond GREAT !
2015-09-18
This bar none the best set of polishes treatments I have ever used. After just 2 weeks my nails are in the best shape they have bee in a long time. No ridges rips or discoloration. Nails are ver smooth. I love this set and have gotten all the color perfectors to play with. They make a lot of very pretty natural colors. YAY ZOYA ! THIS is a winner !
Add a Review
Review Guidelines
We want to publish your review.

Please avoid inappropriate language, personal contact information, other brands, and external links.