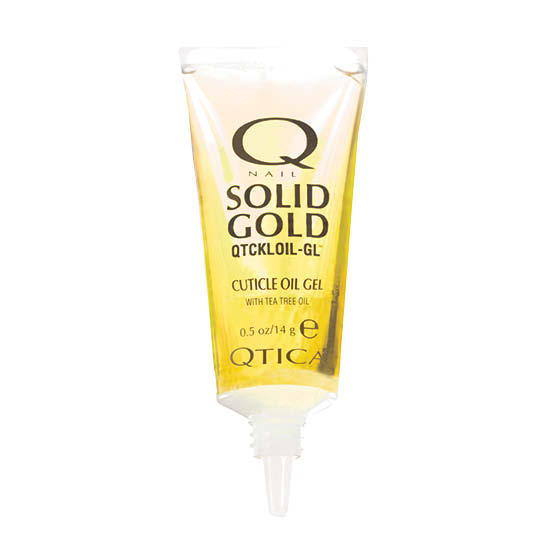 Qtica Solid Gold Anti-Bacterial Oil Gel .5oz Tube
Description
Therapeutic cuticle oil in solid gel form for mess free, sanitary conditioning of cuticles.
Apply it as a gel and feel it melt into a super oil that soothes, penetrates and nourishes. This revolutionary, patented compound delivers a unique 12-oil blend in a solid, mess-free formula until it touches the hand. The great-smelling, great-feeling oil brings nails to a high-shine buff in seconds and protects against fungus and bacteria with tea tree and citrus oils. New tube and package design are perfectly portable, too. So, make your cuticles happy and say good bye to messy, greasy and unsanitary cuticle oils forever and say hello to Qtica Solid Gold.
Instructions
Professional use: Squeeze a pin-head size amount onto cuticle area and lightly massage until absorbed. Use as a cuticle moisturizer for pushing cuticles or as a sanitary alternative to messy cuticle oils that apply with a brush. Safe on natural nails and nail enhancements.
Home use: Apply daily for maximum moisturizing and pair with Overnight Intense Cuticle Repair Balm for best results.
Ratings & Reviews
4

Review

s

Please sign in to write a Review



Velvetmarmoset
-MA
Consumer Review
-Sticky-...ish
2018-01-23
I have to be honest, I had coveted this for ages, and was so happy to pick it up on sale, but I can`t seem to stand to leave it on my fingers. It feels almost like it has a touch of sugar in it, or honey -- my fingers feel almost, but not quite, sticky. It smells amazing, and quite sweet -- so maybe that`s adding to the sensation subconsciously -- but I can`t leave it on my hands without feeling like they need washing, so I usually try to put another oil on top and slide some gloves on. I haven`t been able to bring myself to use it enough to see any lasting effect, which makes me sad. I`ll keep trying. I use a lot of nail oil from many brands, and nail sauce, and nail cream, but this is a very unique finish. Sticky-...ish.
NBDS
-Windham, ME
Salon Review
-Amazing product!
2017-09-20
I am in love with this product! A little goes a long way and because it is a gel it doesn`t run and drip. Soaks in quickly and doesn`t leave a greasy residue. Packaging is perfect for on the go use to! Does have nut and seed oils so be careful of allergies.
Sharon
-Arkansas
Consumer Review
-Love this product
2017-03-06
I purchased the solid gold oil gel and the QTICA healing cuticle balm at the same time. I love them both. I can`t decide which i like the best. They both do the job. And in the first day of use! I really like the fact that this oil gel is a gel. It makes it much easier to use on the job or when i am out and about and can`t clean up an oil spill easily. It takes just a tiny dot on each nail. I also really like the the cap on this tube. It is very reassuring to know i should never experience an oil spill in my purse or luggage! I purchased this when they had the special deal for 3. So i now have one for my purse, my luggage and home use. It should last me forever! THanks, Zoya and QTICA for your wonderful, wonderful, healthy nail products.
Qtica Solid Gold Anti-Bacterial Oil Gel .5oz TubeGreat product!
2010-08-29
Love the portability of this product. Leaves skin glowing with long-lasting moisture and is antibacterial, too. A must-have in your handbag!!
Add a Review
Review Guidelines
We want to publish your review.

Please avoid inappropriate language, personal contact information, other brands, and external links.