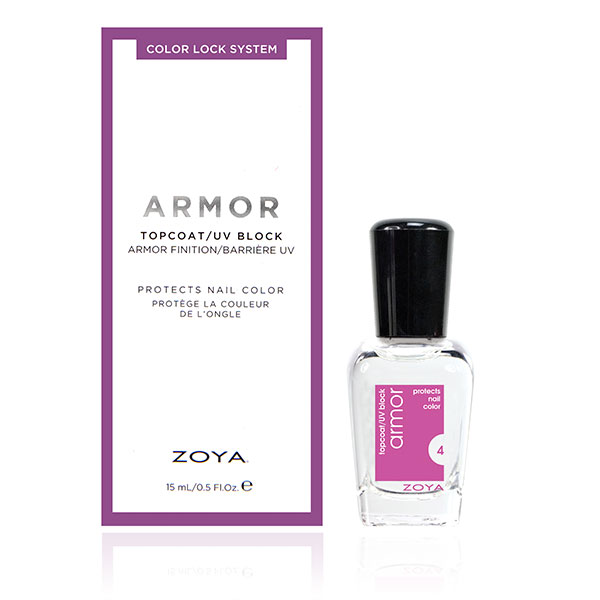 Zoya Armor Top Coat 0.5oz
Size:
Zoya Armor Top coat 0.5oz
Description
Zoya Armor is the world's strongest and most flexible top coat for protecting natural nails and extending the wear and shine of nail polish.
Nails are ready to take on the world with Zoya Armor Topcoat & UV Blocker. Add a protective, ultra-glossy, flexible shine to nail color and prevent exposure to yellowing UV rays. The super-brilliant, ultra-strong and flexible topcoat provides a chip-free coating to defend nail color against wear and tear.
Zoya Nail Treatment
Instructions
Apply one coat over nail lacquer. Re-apply every two days for extended color wear.
Ratings & Reviews
22

Review

s

Please sign in to write a Review



Hollybittnerd
Consumer Review
-Gloss Fades So Fast!
2020-06-16
I need to reapply this everyday if I want my nails to look glossy or my sparkles to sparkle at all. After a day the sparkles completely dull and don`t reflect light at all. Polish stays put but they shouldn`t say this is a glossy coat at all.
annmelanie
-consumer
Consumer Review
-best ever top coat
2020-01-02
Finally I have a top coat that really works. I just started using this as well as my daughters, thank goodness it is also available in a large refill which saves me money.
SalonPro
-Ohio
Salon Review
-Great!
2018-12-18
Best top coat!
Buyer
-USA
Consumer Review
-Disapointed
2017-12-05
Really disappointed in this top coat. After ONE day my nails are already chipping. Many other brands worked better. I really like Zoya polish but this is not as well made as other zoya products i have purchased
KKW
-Indianapolis, IN
Consumer Review
-Causes bubbling
2015-08-03
I have used the Armor Top Coat with many different brands of polish and with every one it causes tiny bumps and bubbles as it dries. It dries beautifully and shiny, but give it time - it will bubble!! It doesn`t matter how long you wait between coats either. The only positive I will give this top coat is that is does make your polish last for quite awhile and it won`t chip. I`d rather have a smooth surface and deal with chipping or tip wear rather than bumps and bubbles. I won`t buy this again.
TX Peach
-San Antonio, TX
Consumer Review
-WOW...I Am Impressed!!
2014-05-30
I moved to TX 2 years ago and noticed when I polished my nails the next day the polish would have a cloudy and gummy white film that I could scrape off. No bueno! So I came across Zoya web surfing and came across this beautiful gem. This has saved me nearly $100 a month since I no longer have to go get my nails shellaced any more. When using armor I also cap my free edge and I literally have no wear or chipping for a full 2 weeks +. As long as I live in TX Zoya`s anchor and armor will be a staple.
Zoya Armor Top CoatGood, for a while...
2013-07-05
This is an amazing top coat when it`s new, but about halfway into a bottle it gets really thick, to the point where it makes awful bubbles and is hard to spread. Renew helps but it takes a lot to fix it and it thickens back up again fast.
Tina
Location-Columbus, OH
Consumer Review
Zoya Armor Top Coat 0.5ozNot worth the money
2013-01-15
Save yourself a few bucks and buy a different clear top coat. I applied to dry nails and it started coming off on the clear brush!! I also got chips on the tips of my nails within hours and all I was doing was laundry. Not happy with this purchase and want my money back.
Sara
Location-NJ
Consumer Review
Zoya Armor Top Coat 0.5ozJust Okay
2012-12-09
This was just okay. It`s no better or worse than any other topcoat I have. I applied it and spent TWO hours doing absolutely nothing and the polish still dented. I`ll use up what I have, but I won`t repurchase.
Lee
Location-Mantua NJ
Consumer Review
Zoya Armor Top Coat 0.5ozArmor indeed!
2012-07-03
Zoya`s polishes last longer than most without the top coat, but with it - oh my, the polish lasts much longer. I spend 3 days a week in pool classes and the chlorine has no effect, my nails stay shiny with no fading, or discoloration. Actually, most of the matte finishes can resist chlorine anyway, but this top coat makes my nails like armor. no, really! Easily 2 weeks before I take it off.
Zoya Armor Top CoatGreat for Zoya and other chip-prone formulas!
2012-06-17
Although I will forever be a Seche Vite girl, I recognize there are polishes that that formula just doesn`t play nicely with (like Zoya). And when Seche doesn`t work nice, 99.9% of the time Zoya Armor definitely will! Case and point: Chanel. Chanel wears like IRON with this stuff and normally it`s a chippy mess.
I`m too prone to messing up my manicure while waiting for it to dry to use this as my go-to , but when I`m in a patient mood I have no qualms reaching for this stuff.
Pinot
Location-Philadelphia
Consumer Review
Zoya Armor Top Coatamazingly the BEST
2012-04-18
This is better than any other product out there. My polish stayed on for a week no CHIPPING!!! Typing all day and rough wear and tear on my nails.. not a CHIP!!! I wish this polish was in more stores. It`s super hard to find this brand and it`s the best on the market!
Green Fairy
Location-The Big Apple
Consumer Review
Zoya Armor Top Coat 0.5ozI wanted it to work as promised, but....
2012-01-16
I purchased Anchor and Armor in the hopes that they would extend the life of my mani longer than the other base and topcoats I use as promised by Zoya`s copy. To be fair, I do use my hands a lot but I thought that perhaps Anchor would work better than my other topcoats. I used it on top of KI with Anchor underneath. Alas, my nails showed significant tip wear on the first day after the mani and chipped on the second. But I`m conducting an experiment so I may re-review it. I am giving Anchor and Armor a few more chances with different Zoya polish finishes such as cream, glitter, duochrome, and sheer. Perhaps it was just this one polish that chipped faster than usual. Let`s see what happens!
Shawnese
Location-Memphis TN
Salon Review
Zoya Armor Top Coat 0.5ozNail Professional
2012-01-06
I love Armor top coat it protects your nail color for long lasting wear. I love it!!!
michelle66
Location-Oakland
Consumer Review
Zoya Armor Top Coat 0.5ozArmor is AMAZING!
2011-11-23
This is the best topcoat I have ever used bar none! Thanks for making it!
LizSays So
Location-Boston
Consumer Review
Zoya Armor Top Coat 0.5oz Simply The Best!
2011-08-16
Holy. Crap. Armor kicks Seche Vite`s butt in the long-wear, chip-free category! Hi-Ya! I don`t even follow the directions to reapply every other day, and my polish lasts a full NINE days without a single chip! The drying time for Armor isn`t as instantaneous as the quick-dry topcoats, but who cares? Most other topcoats dissolve the chemical-light Zoya formula, anyway. I happily wait an extra ten minutes for my Armor to dry in order to get double the wear time on my manicures!
claire
Location-Midwest
Consumer Review
Zoya Armor Top Coat Love Zoya Armor!
2011-07-05
I have tried a lot of topcoats, and Armor is my favorite. It leaves a smooth shine that wears really well. You only need 2 or 3 strokes with the brush after your polish is dry.
tien.nguyen45
Salon Review
Zoya Armor Top CoatGreat Top Coat
2011-01-17
I am a nail tech and all of my customers rave about the whole zoya product line. The colors are great and with the base and top coat, it lasts a lot longer than other brands. I love it.
Zoya Pro
Location-Des Moines, IA
Salon Review
Top Coats by ZoyaAwesome topcoat!!
2010-10-31
I am a professional nail tech and LOVE this top coat! It glides over nail polish lovely and protects it like a dream! Stays shiny and flawless. I read a review about it dissolving someone`s "perfectly dry polish." All polish, whether it be top, base, or color, will contain solvents as this is how polish is made. This is nothing new. As long as the brush has a nice amount of topcoat on it, and you don`t drag and rake the brush over the nail, you won`t see color on the brush. This is an awesome product and I highly recommend it!
Alix
Location-Providence, RI
Consumer Review
Zoya Armor Top CoatWhat the heck?
2010-09-22
I`d give this product zero stars if I could, because it *dissolves* polish. Literally. I applied it to perfectly dried polish and it dissolved as though I`d dabbed it with remover. A complete mess and waste of money; extremely disappointed.
Colorgirl
Location-Madison, WI
Consumer Review
Zoya Armor Top CoatArmor
2010-05-26
This product is true to its description: It makes your polish last longer and it doesnt yellow! The Zoya Topcoat and Basecoat are doing wonders when it comes to helping my toenails recover from the other basecoat I was using. I love this product!
Alaina
Location-Decatur, GA
Consumer Review
Zoya Armor Top Coat 0.5ozJust Perfect
2010-05-25
This armor top coat has double duty. When I used it as a base coat, it made any nail polish shade I apply over it, peelable! Great if you change your nail polish every 2 days. As a top coat it is fantastic. It protects and is glossy and clean. Love it.
Add a Review
Review Guidelines
We want to publish your review.

Please avoid inappropriate language, personal contact information, other brands, and external links.