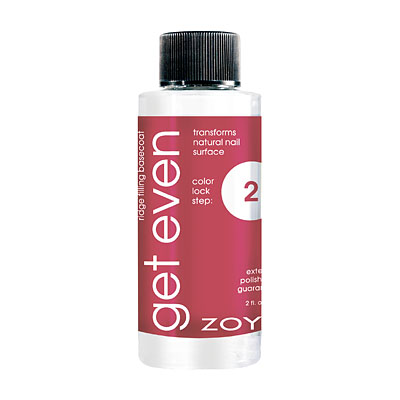 Zoya Get Even Ridge Filler Base Coat 2oz
Size:
Get Even Ridge Filler 2oz Refill
Description
Zoya Get Even is an advanced ridge filling base coat, the evens out uneven nail ridges and and holds nail polish in place. PLEASE NOTE: The 2oz Pro Refill (ZTAR0P) does NOT come with a brush.
Zoya Nail Treatment
What It Does
Uneven nails need not prevent polish perfection. Zoya Get Even Ridge Filling Basecoat acts as a smoothing compound for natural nails. It fills in uneven nail surfaces with a dense fiber-like formula that grips the nail plate and creates a smooth surface to insure longer polish wear.
Instructions
Apply one coat to clean, prepped nails.
Shade Spotlight
Shade Spotlight Join our community - Tag your photos #EverydayZoya for a chance to be featured here!
View the Gallery
Ratings & Reviews
8

Review

s

Please sign in to write a Review



Ai
-Washington, DC
Consumer Review
-Not What I Expected
2018-04-28
This product doesn`t really fill ridges, your best bet is to buff your ridges down. What it seems to do is bind flaking nails together to prevent future peeling. Since I`ve had flaking nails all my life I`ll take anything that prevents the problem from getting worse.
Katnail
-Stow, OH
Salon Review
-Fabulous
2016-12-22
I`m a nail tech and have used this product for YEARS... I LOVE it! I have used it on people of every age in many different situations and it gives me great results every time without having to buff the crap out of my clients nails! People often say I should be a Zoya rep because I love their products!
jill.i.am
-Austin, TX
Consumer Review
-My favorite!
2015-11-20
No other base coat has given me such a smooth base for my manicure. I cannot imagine using any other base coat. I love Get Even Ridge Filling!
Zoya Get Even Ridge Filling Base Coatdoesn`t work
2011-09-10
I`ve used this several times, and it doesn`t fill ridges. PERIOD.
I can`t help but think that the positive reviews were written by company employees. I`ve been doing my own nails for decades and know how to apply polish. Calling this "ridge filling" is false advertising, in my opinion
Jackie
Location-New Orleans, Louisiana
Consumer Review
Zoya Get Even Ridge Filler 0.5ozImproves Look of Nails
2011-09-03
I had a little trouble with Get Even Ridge Filler at first, but after a couple attempts I got the hang of the application: it needs to be applied in one, thin coat and a second layer may be necessary if nails are very uneven, but be sure to allow it to dry completely in between coats. It dries quickly and really does create a very smooth appearance on nails with ridges. The only reason I`m only giving it four stars is that it`s a bit difficult to apply to the larger thumb nails and big toe nails.
winniethepooh751
Consumer Review
Zoya Get Even Ridge Filling Base CoatGreat when you use it right!
2011-08-30
When I first got mine, I didn`t like it because it was streaky and uneven. I didn`t realize that it takes a little longer than a typical base coat to dry. Let it dry until it is completely even and milky and matte. You will love how even it makes your nails look and it even helps with peeling!
Casper
Location-Madison, WI
Consumer Review
Zoya Get Even Ridge Filling Base CoatNice base coat
2011-08-25
I agreed with the negative review at first. It definitely has a bit of a white color to it, and it doesn`t really seem to do much at first. However, when you have the polish on, it looks fantastic. It also makes nail polish last a really long time, and it still comes off really nicely too. I`m definitely impressed.
Zoya Get Even Ridge Filling Base CoatLoves it.
2011-08-01
I completely disagree with the other review. This Get Even base coat is fabulous because it not only does its job, but it is one of the few base coats on the market that contains fibers that act almost like a "silk wrap in a bottle" by adding extra support and protection to your nails. Like most ridge fillers, it has a matte finish, and dries a translucent, milky white. It is covered up completely by polish and makes a great base for sheer polishes and metallics. The key to application, as with all polishes, is to apply it in a thin, even layer!
Add a Review
Review Guidelines
We want to publish your review.

Please avoid inappropriate language, personal contact information, other brands, and external links.