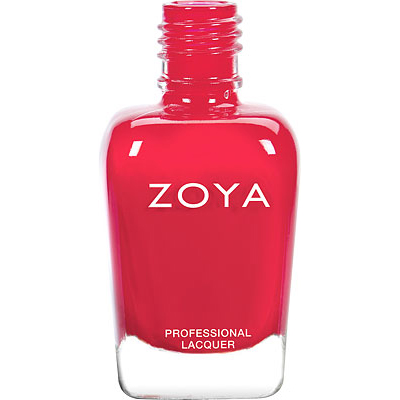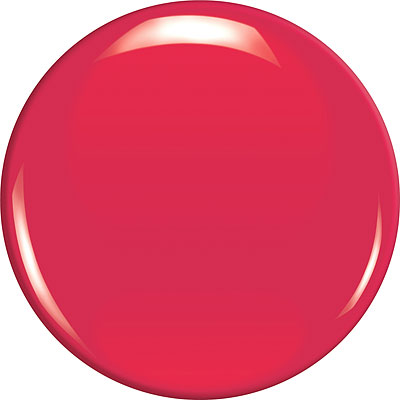 Description
America by Zoya can be best described as a bright, bold, medium retro tomato-red creme. This unique red screams retro pin-up girl glamour.
Nail Polish
Color Family:
Red
Finish:
Cream
Coverage:
2 - Coat Coverage
Tone:
Cool
Instructions
For Best Results
Step 1: Clean the nail plate with Remove Plus ( Remove ) nail polish remover and nail plate cleaner
Step 2: Choose and apply the right base coat: Zoya Anchor for regular healthy nails or Zoya GetEven for nails with ridges
Step 3: Apply 2 coats of your favorite Zoya Nail Polish Color
Step 4: Apply a coat of Zoya Armor Top Coat
Step 5: Drop one drop of Zoya Fast Drops to the base of your nail bed
Following these 5 steps guarantees up to 14 days of wear on natural nails.
Shade Spotlight
Shade Spotlight Join our community - Tag your photos #EverydayZoya for a chance to be featured here!
View the Gallery
Ratings & Reviews
8

Review

s

Please sign in to write a Review



aehensley1
Location-Phoenix, AZ
Consumer Review
Zoya Nail Polish | AmericaLOVE IT!
2012-08-25
This is the fire engine bright red I was hoping for when ordered. It lived up to my expectations and is my favorite color to wear!
michelleatx
Location-Austin, TX
Consumer Review
Zoya Nail Polish | AmericaPretty!
2012-07-16
This is my first time using Zoya nail polish and this was free with my purchase so I was really happy to try it! Smooth application and almost completely opaque in one coat. I gave it two coats mostly out of habit. The color is a little more in the orange-red family than a true blue-red but it`s still very pretty and I can`t usually wear orange-reds. Very impressed with Zoya polish after this experience!
Zoya Nail Polish | Americafavorite shade of red
2012-05-17
this is my favorite shade of red. i have pale skin with bluish undertones because of my veins. sometimes reds look a little too harsh on me, but this one is nice. it has just a touch of orange to it so it is a nice retro color while still ringing true as red. it does chip after a day of wear so that`s why i gave it four stars.
ChocolateFufuBowls
Location-NY, NY
Consumer Review
Zoya Nail Polish | AmericaMy Favorite Red
2012-03-14
This is by far my favorite red polish. It`s sophisticated, yet edgy. When I applied the color, I couldn`t stop looking at my hands. Zoya has done it again! :-)
USMC Chic
Location-N. America
Consumer Review
Zoya Nail Polish | AmericaFavirote!
2012-01-21
I bought this on clearence at a store didn`t expect to see how wonderful this polish is. I feel in love with it the first stroke I placed on my thumb nail. Compaired to OPI, I love this formula better and am going to be a Zoya gal from now on.
I`m going back to see if there are any more of America nail color. I need to stock up because this is a must have, not only for me but for all gals who enjoy painting their nails.
texanshopster
Location-santa cruz, ca
Consumer Review
Zoya Nail Polish | Americabetter cause it`s Zoya, but. . . ..
2011-12-29
i wouldn`t go so far as to say "tomato soup" red. i see no orange. this is a true red. my monitor gave the color a more retro reddish with a touches of orange and pink; this is a red with no orange, pink or blue to distort the perfect redness. which is fine. not what i was exactly looking for, but fine.
LD
Location-ND
Consumer Review
Zoya Nail Polish | America Excellent!
2011-11-01
This was my first time trying a Zoya polish. With dark skin, it`s been tough for me to find the perfect red, but I think this one is it. Love its opaqueness too. Excellent product!
lateshoes
Location-Salt Lake City
Consumer Review
Zoya Nail Polish | AmericaMust have
2011-01-02
This is the first Zoya I ever met.
I was treated by some friends to a spa date/ pedicure where they used only Zoya products. I wanted a retro/ Mad Men-esque red and America more than fit the bill.
I had no idea that I would fall so hard in love. I couldn`t stop staring at my toes, so I ordered up a bottle and it`s one of my go-to happy colors.
Love it.
Add a Review
Review Guidelines
We want to publish your review.

Please avoid inappropriate language, personal contact information, other brands, and external links.