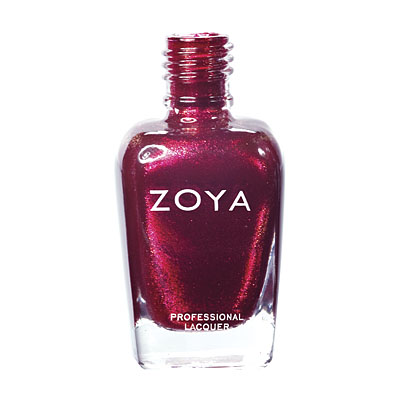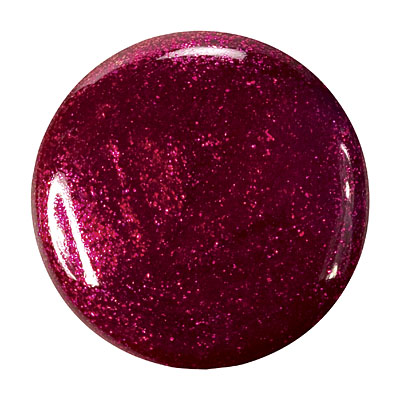 Description
Sarah by Zoya can be best described as a red-ruby toned metallic with a dark fuchsia sparkle. A very rich and different shade of cool red sparkle that will stand out in a crowd.
Nail Polish
Color Family:
Red
Finish:
Metallic
Coverage:
2 - Coat Coverage
Tone:
Cool
Instructions
For Best Results
Step 1: Clean the nail plate with Remove Plus ( Remove ) nail polish remover and nail plate cleaner
Step 2: Choose and apply the right base coat: Zoya Anchor for regular healthy nails or Zoya GetEven for nails with ridges
Step 3: Apply 2 coats of your favorite Zoya Nail Polish Color
Step 4: Apply a coat of Zoya Armor Top Coat
Step 5: Drop one drop of Zoya Fast Drops to the base of your nail bed
Following these 5 steps guarantees up to 14 days of wear on natural nails.
Shade Spotlight
Shade Spotlight Join our community - Tag your photos #EverydayZoya for a chance to be featured here!
View the Gallery
Ratings & Reviews
8

Review

s

Please sign in to write a Review



Zoya Nail Polish | Sarah True Red
2012-12-20
If you only get one red from Zoya, make it Sarah. This is a bright, cheery shade that is the perfect Christmas color.
I`m currently wearing it striped over Ginessa for a candy cane manicure - give it a try! :)
queenmarcie
Consumer Review
Zoya Nail Polish | SarahReally slow drying
2012-09-22
The color is absolutely beautiful. Perfect for Christmas. I did two coats and it was completely opaque. But, it took /forever/ to dry. After an hour of drying it dented when I was putting on a jacket. Even after a full day, it would still take on imprints if my nails are pressed against anything (clothes, paper, gloves etc).
summers
Location-louisville, ky
Consumer Review
Zoya Nail Polish | Sarahmy namesake....is GORGEOUS
2011-12-03
i bought sarah mainly because its my namesake and i thought it would be cool to own a product with my name on it. this color is amazing! its a pretty bright deep shimmery red, with flecks of gold and other reds in it. its perfect for christmas! but its also the kind of red that makes you stand out in a crowd and gives you a little oomph to your every day look. gorgeous on cool colored skin tones, i adore sarah!
Candy
Location-CT
Consumer Review
Zoya Nail Polish | SarahBeautiful!
2011-11-19
This is probably my "go to" red for the fall season. the micro glitter is so awesome and the shimmer reminds me of Charla. I love how it looks red and in different lighting it looks like a dark plum pink color! I love it! perfect for christmas too!
bigfat_baby
Location-HNL
Consumer Review
Zoya Nail Polish | SarahPerfect for Christmas
2011-09-20
A must for Christmas time! She`s a rich, deep, ruby red with dark fuchsia tones and loaded with tons of red micro glitter. She and Karina look almost identical.
Aimee
Location-NW Ohio
Consumer Review
Zoya Nail Polish | SarahBest. Christmas. Red. Ever.
2010-12-07
This color sparkles and glows from within, and I have never seen a red this perfectly vibrant before. I will admit, I have been in love with OPI Not Really A Waitress for years and have insisted it was my favorite holiday red. It doesn`t come close to comparing to this stunning polish. Way to go Zoya!
Greek Mama
Location-Lakewood, OH
Consumer Review
Zoya Nail Polish | SarahGorgeous! Gorgeous! Gorgeous!
2010-10-23
Just received my order and this shade of polish is absolutely Gorgeous! Can`t wait to go get my nails done! It is red when you put it up red clothing, show fuschia with fuschia clothing, and red rose berry when you place it up against red rose berry clothing. Definitely a color that will be very versatile for the winter months and holidays. This shade is definitely a must have!
GabitaG
Location-Chicago
Consumer Review
Zoya Nail Polish | SarahOMG Red!
2010-10-05
This color is absolutely fabulous! Two coats will give a highly reflective red with tons of shimmer and brilliant sparkles. It will definitely get your nails noticed. My second favorite of all time.
Add a Review
Review Guidelines
We want to publish your review.

Please avoid inappropriate language, personal contact information, other brands, and external links.